Curated Festivals, Shows, and Exhibits
April 22, 2023
RUINS
prattsville art center & residency
catskill mountain freaks! swarm to the prattsville art center and residency on saturday april 22 for an evening of electronic sonic destruction, experimental performance art, and mutating gothic reverberations.
@prattsville_art_center 14562 NY-23, prattsville, ny 12468 5pm doors | 6pm show free with donations accepted
flyer by @mirroredfatality
Location moved due to white supremacist groups threatening to protest: There is a new location for RUINS on April 22, 2023. It is at The Open Eye Theater at 960 Main St, Margaretville, NY 12455. Doors open at 5pm. Performances start at 6:30pm and end at 11pm. We want to ensure the absolute safety & joy of the QTBIPOC organizers & artists involved. Please keep this location private and word-of-mouth & only to people who you trust would make this a No Transphobia, Homophobia, Racism, or Weapons space. Thank you for supporting RUINS featuring mirrored fatality, smiling beth, mater tenebrarum, and sunk heaven and see you soon.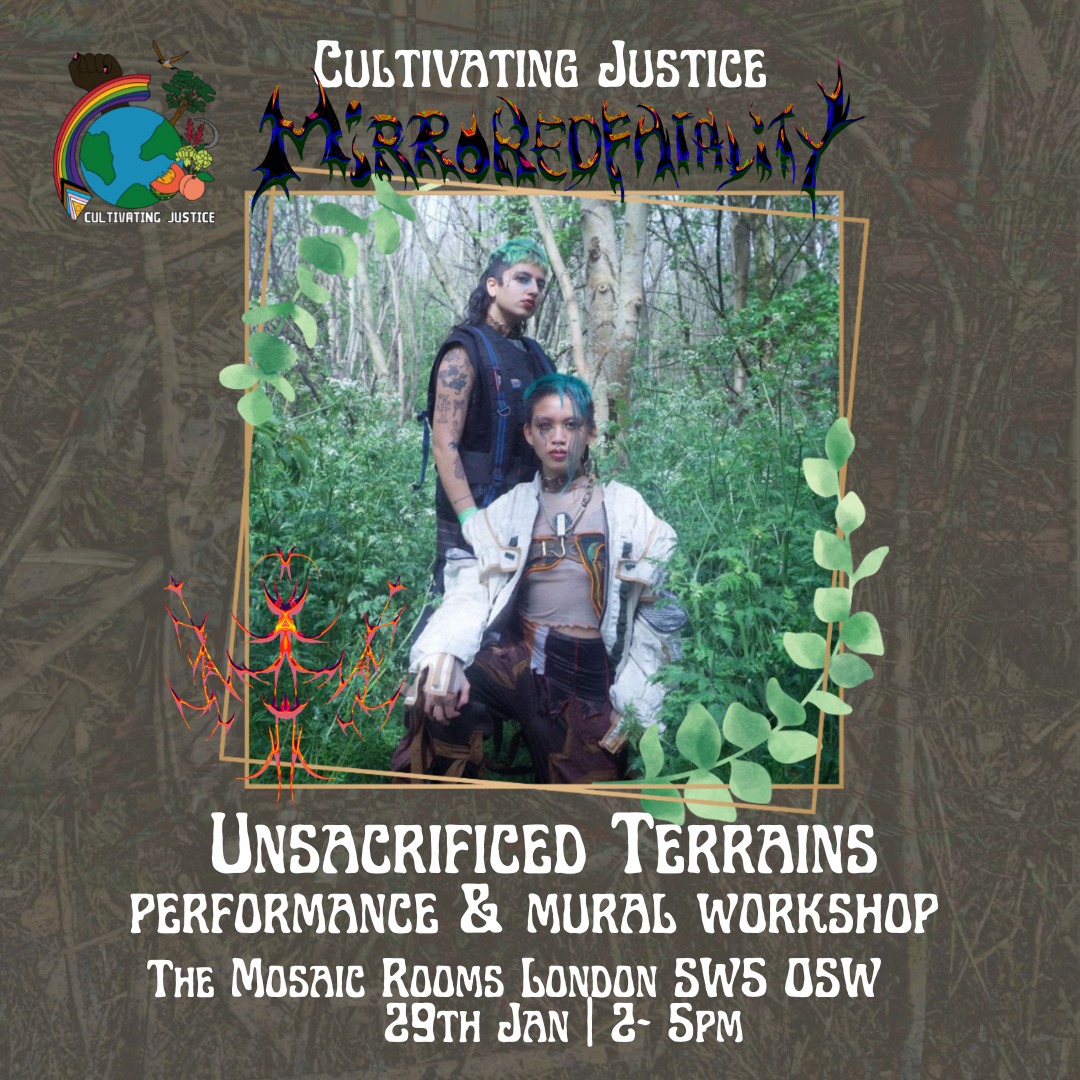 January 29th from 2-5 pm
Unsacrificed Terrains
mirrored fatality and Cultivating Justice: Out On The Land, Land in Our Names, and Farmerama Radio
We will hold space for a community altar and storytelling to discuss our work centered on Land Justice, Prison Abolition, Food Sovereignty, Indigenous, Native, and Black Reparations, Climate Change, and QTBIPOC mutual aid.
We will close the circle with a mirrored fatality performance and a collective banner making in solidarity with Defend the Forest Atlanta and more! Our intentions for the outcome of our gathering will create points of solidarity across our work to uplift a global and international movement.
Workshop donations will support Atlanta Solidarity Fund: "We provide support for people who are arrested at protests, or otherwise prosecuted for their movement involvement"
https://atlsolidarity.org/
https://instagram.com/atlsolfund?igshid=MWI4MTIyMDE=
December 18, 2022
Saturn Bar
QTBIPOC Solstice Night
Lola Jean, Discernment,Frank/ie Consent, and mirrored fatality
Fundraiser for Uhuru Dream House NOLA
BIOMIMICRY
April 7 | Thursday | 6pm - Midnight | SET WOOLWICH Beresford St, London SE18 6BU
presented by @BAESIANZ + @mirroredfatality
ଘ(੭*ˊᵕˋ)੭* ੈ♡‧₊ ˚a vortex of trans & queer BIPOC (Black, Indigenous, and People of Color) ecologies of synth-pop, industrial techno, and experimental performance, video, music, and sculpture * ੈ♡‧₊* ੈ♡‧₊
*'"*:.。. .。.:* a fundraiser to support black trans girl DJ & multimedia artist weepingwillowtree's recovery & holistic sustainability <3 [gofundme link in her bio @weepingwillowtree.34 or tinyurl.com/cleocar] + BIOMIMICRY's artists+performers ゜゚・♡♪+*.
Joy is Resistance portal on Sunday 12/12/21 at @omni.commons (4799 Shattuck Ave, Oakland, CA 94609) from 12:30pm to 11:30pm in collaboration with Warriors Grace Oakland
to support @Liyang_Network's December fundraising campaign to support frontline environmental defenders who are standing between extractive industries and vital old-growth rainforests, major river systems, and other life-giving ecosystems in the southern Philippines and @FilipinoCSA's farmers of Ilokano Farms: a farm of landless elder migrant Filipino farmers growing traditional fruits, herbs, and vegetables from Philippines in Central Valley: Orosi, California
1-2PM @kanyonkonsulting Ohlone Mutsun Band Ceremony
2 - 3:30 PM A teach-in from the Filipino Farmers Cooperative: on Ilokano Farms, the 1965 Delano Grape Strikes, and the historical resistance of Filipino Farmers and @Liyang_Network: on Indigenous environmental defense and sustainable agriculture in Mindanao, Philippines
3:30PM - 11:30 PM
Performances by
@yonni_bay
@mpwrdcollective
@champchampchampoy
@soulidarity.wave
@spurs_band_sf
@ayokona_
@spacewalker92
@L1zard_Bitch
@moreorlessjaded420
@jetalon.e
@cucucumbiaa
@djignacia
@phendetta
@spyc.hitou
@shotbyguerrilla
@3aby.blue
@front.hole.34
Vendors
@Ihootaloowa
@011080x
@taloasbakery
@weareearthseed
@michelecdraws
@allenlitton
@_r0c.r0c_
@nahanniabel
@ihootaloowa
@filipinocsa
@divine_oakland
@soulflowerfarm
@jetalon.e
@bread.kiln
@vavistrenzitas
@iasminrios.art
@siennaloveee
@forda.people
Raffle Offerings
@laoncanabe
@warriorsgraceoakland
@lanaflorafauna
@saritadoe
@sooksayer
@aklasanrecords
@wuwei.world
@blackfairydust
@soulflowerfarm
@siennaloveee
Visuals by
@adie.an
, EMCEE by @ianfrancis + @goeatmango, Kapampangan 4 Directions Ceremony + Community Altar by @goeatmango, + Body Work Therapy by @kyleoblue, + Food!
arwah collective presents ✣arwah 6: a fundraiser for LGBTQ+ folks in Kashmir✣
Date: Saturday December 11th, 2021
Time: 4 PM - 2 AM PST at PLACE 1121 64th St Oakland, CA 94608
We are so excited to present arwah 6! There will be a teach-in by Ather Zia on Kashmir and a statement by Dheiva. There will be live performances by Aurat, tagolilong, Mansaf Mama, DJ BAQVAS, Flung, Beast Nest, Baby Blue, Front Hole, neekajun, and YOUCANDOITHABIBI (Amal Amer), poetry by Cielo and Zara Jamshed, and a drum circle by Mirza. As well as incredible vendors and visual art! We will be live broadcasting the teach-in, statements, poetry, and performances throughout the night on crowdcast. If you are unable to attend the event in person: RSVP here for the live crowdcast stream: https://
www.crowdcast.io/e/Arwah6/register
Sliding scale price of $10+ for QTBIPOC and $15+ for folks with class and/or caste privilege and white people. All proceeds will be donated to an organization that supports the wellbeing of the LGBTQ+ community in Kashmir, including food kits, medicine, shelter(in specific cases), and other contingencies. No one will be turned away for lack of funds.
COVID 19 Protocol: Vaccination Card at door and/or a Recent COVID Negative Test and we are encouraging masks inside the venue
Venue is ADA accessible
Please SHARE and circulate !
Instagram accounts to tag:
Performers:
@auratband
@3aby.blue
@baqvas
@front.hole.34
@djmansafmama
@cupidsnena
@zeejamz
@xoxoflung
@beast.nest
@youcandoithabibi
@champchampchampoy
Vendors:
@fire.sign.supremacy.kitchen
@sooksayer
@tianshi_baobei
@lilchicanaboo
@malecatoot.jpg
@laurynalicia
@realsidt
@totallysouledout
@subzi2spicy
@sweetgushyyscorpio
@_r0c.r0c_
@asiyalater
@fragrant_hawa
Visual Artists:
@ayqa_khan
@yougocurly
@qtzal__
@realsidt
@n00tulain
@halal.and.oates
@gentlesuns
@realsidt
@trinabeann__xx
@murcielago.prensa
CLOUDBURST (August Friday the 13th from 7PM-LATE)
FREE with RSVP -> TINYURL.COM/RSVPCLOUDBURST
is a collaborative event celebrating and centering QTBIPOC artists in Lenape land
at Trans Pecos (@trans.pecos)
presented by @kinseyxkinsey and @mirroredfatality
benefitting @StarRouteFarm
ARTISTS:
mirroredfatality (@mirroredfatality)
onyx demonic (@onyxdemonic)
Bindiram (@bindiram)
RaFia (@rafiasworld)
Raver Jinn (@raver.jinn)
Joopiter (@brxndxnsi)
DJ Rashad Rashad (@biblicallyaccuratebutchqueen)
Perlas ng Digma (@perlasngdigma)
Through this time warp of a year we feel it is important to have an opportunity to release the energy that tethers us to our darkness and allow ourselves to evolve into our ultimate forms. Through performance, movement, and visual art we will be providing space to gather, heal, and affirm the lives of queer artists of color.
Together we will enter the vortex, travel through the eye of the storm, burst through the other side, and find joy at the end of the rainbow.
flyer by @onyxdemonic
Donations, which we welcome will go to @StarRouteFarm "fundraises to expand food-access work to provide quality, local food for all people in their region. Their goal is to dedicate their farm to growing food security by providing organically-grown produce to communities that currently depend on mutual aid networks and pantries to survive our current public health crisis in New York such as Bushwick Ayuda Mutua, Heart of Dinner, Wat Buddha Thai Thavorn Vanaram, Delaware Opportunities, and Future Foods. Located in Charlotteville, New York, Star Route Farm is a small-scale diversified vegetable, herb and small grain farm using organic practices on seven acres of land, three of which are used for intensified vegetable production and four acres are used for grains and beans."
MAKIBAKA FOR AZAADI (Battle for Freedom) at Church of Fun [corner of Melrose Avenue and Madison] we will unite, supporting the self-determination of @Sabokahan, Lumad Indigenous wxmn facing manmade climate calamity and paramilitary attacks and the people of Kashmir impacted by military occupation.
On February 1, Liyang Network's relief and psychosocial mission "Tindog Makilala! Building Unity and Resilience in Climate Calamity" for Lumad survivors of magnitude 6 earthquakes that hit Mindanao offered pregnancy kits, medicine, menstrual products, art kits, held PST sessions for 200+ women and 300+ children, and fed 600+ women and children in collaboration with the Women's Studies and Resource Center. Let us continue supporting the work of @liyang_network in meeting the needs of lumad communities affected by climate calamities and militarization.
As of February 5, 8 million Kashmiris have been besieged by 900,000+ Indian soldiers for the past 6 months under the fascist racist Modi government regime. Kashmiris face brutal torture, firings at unarmed protestors, bans on religious proceedings, and sexual violence as they reject the use of Islamophobic discourses and displacement. As Kashmir continues to fight for their freedom, we can #EndtheOccupation through our social media outreach and elevating Kashmiri narratives globally (@standwithkashmir). Let us put an end to the human rights violations in Kashmir and Mindanao.
⠀Makibaka! Huwag Matakot! Hum kya chahte! Azaadi! As Kashmir and Mindanao face media repression ranging from misinformation to total blackouts under militarization and occupation, it is crucial we advocate for their self-determination and lend our resources. All proceeds going towards Makibaka for Azaadi (Battle for Freedom) will be split between @liyang_network (on behalf of @sabokahan) and @arwahcollective (for @standwithkashmir)."
Gallery Exhibitions
soundpedro2023 MINGLE and eARThLB
SOUND ART PRESENTATIONS
Saturday, June 3, 7-10 PM
FREE, On-site at Angels Gate Cultural Center
3601 South Gaffey Street, San Pedro, California 90731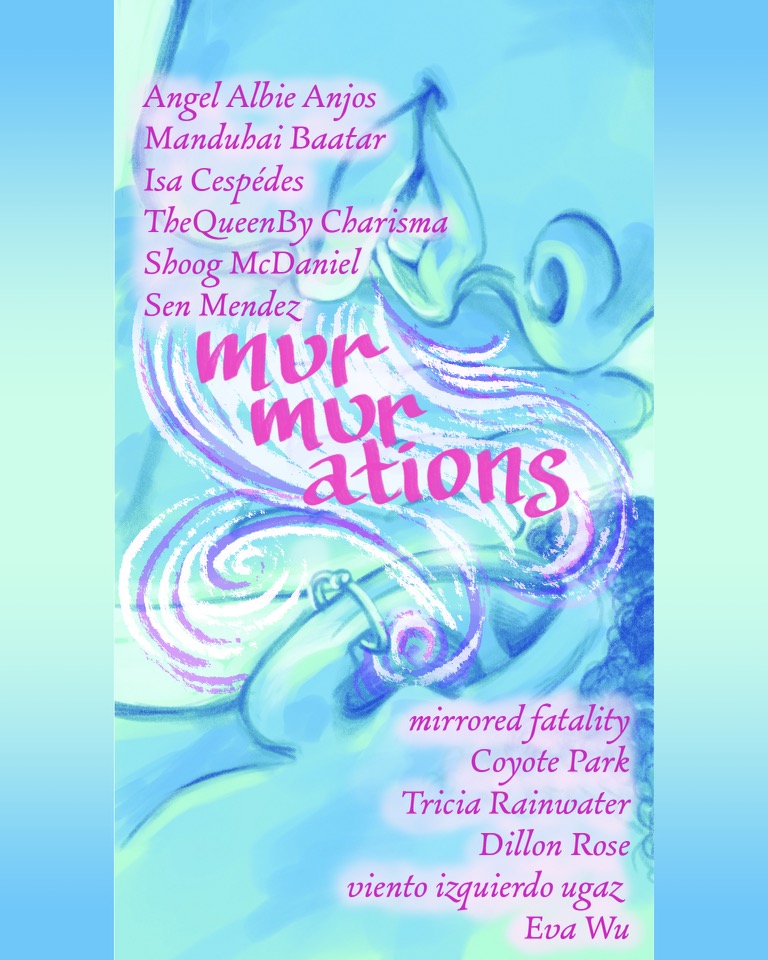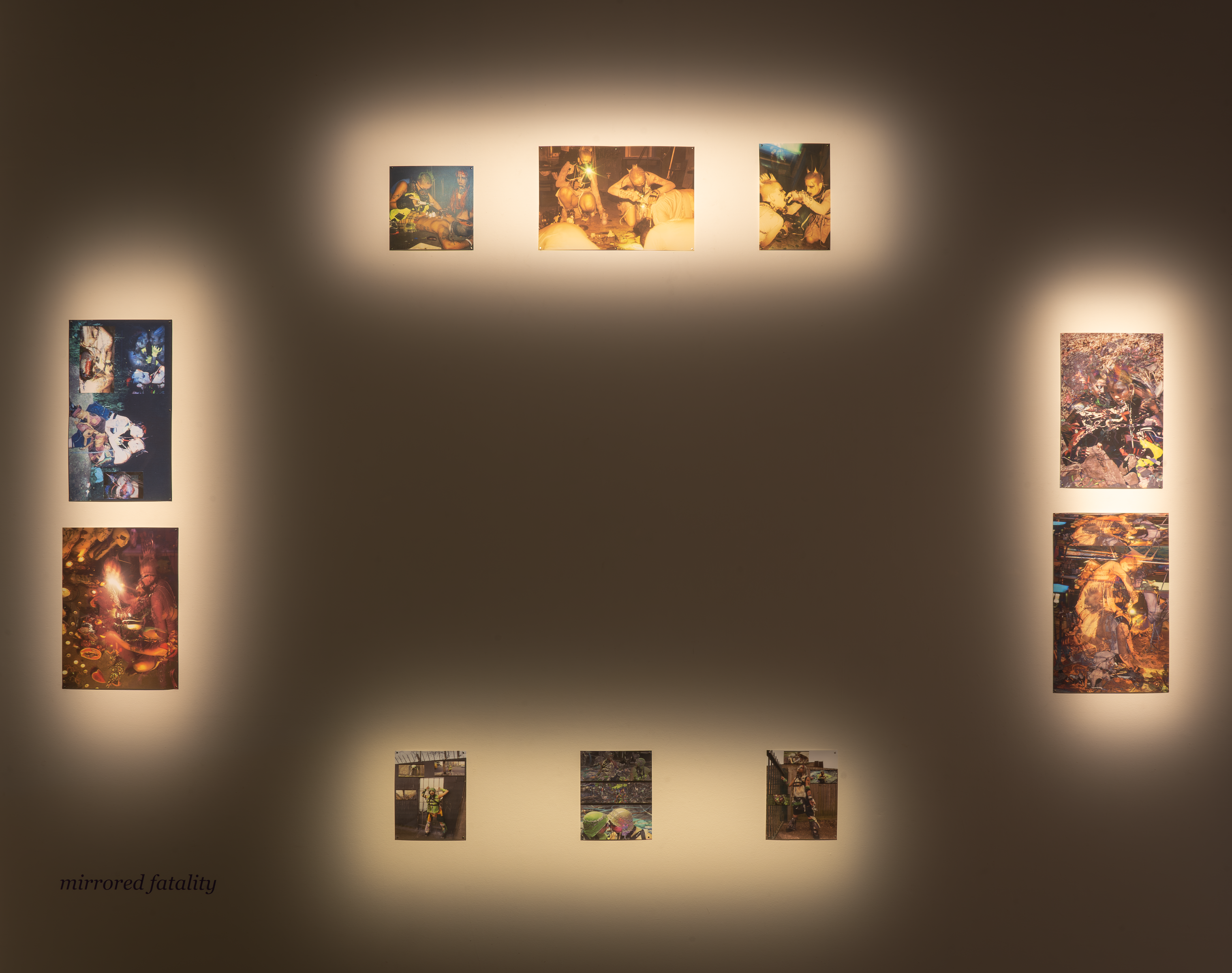 June 9 - 30
Murmurations: Queer Bodies of Werq is a pulsating, swooping, living, collective of queer ecologies, on display from June 10 - 30, 2023, curated by Xtal Azul & Gaia WXYZ.
Psychedelic Queens
Liminal Space SF
April 29th, 2023 - June 2nd, 2023
Curated by Sam Claude Carmel
Aliens, angels, and robots converge in a chimera dance, moving in rhythm to beats both sacred and profane.This is a site of spiritual ecstasy, the door through which the raver encounters the rave, the ritual moment of tab hitting tongue.Here is a mirrored portal that unions the flesh of trans-divinity with material reality and opens us up to sacred experience.Moving fluidly, we expand the possibilities for our expression to the beyond.
This show is for reclaiming Trans-contemporary psychedelic culture in the Bay Area. Previously, in the psychedelic era of the 60s and 70s, San Francisco's art scene was dominated by white cisgender male artists. Even now, much of the past and present contributions of Transgender people to psychedelic culture have been overlooked. After attending the first Queering Psychedelics conference in April 2019, I realized the need to explore this history and create a place to expand psychedelic visual language in contemporary art that includes Transgender Bay Area artists and those working outside the bay.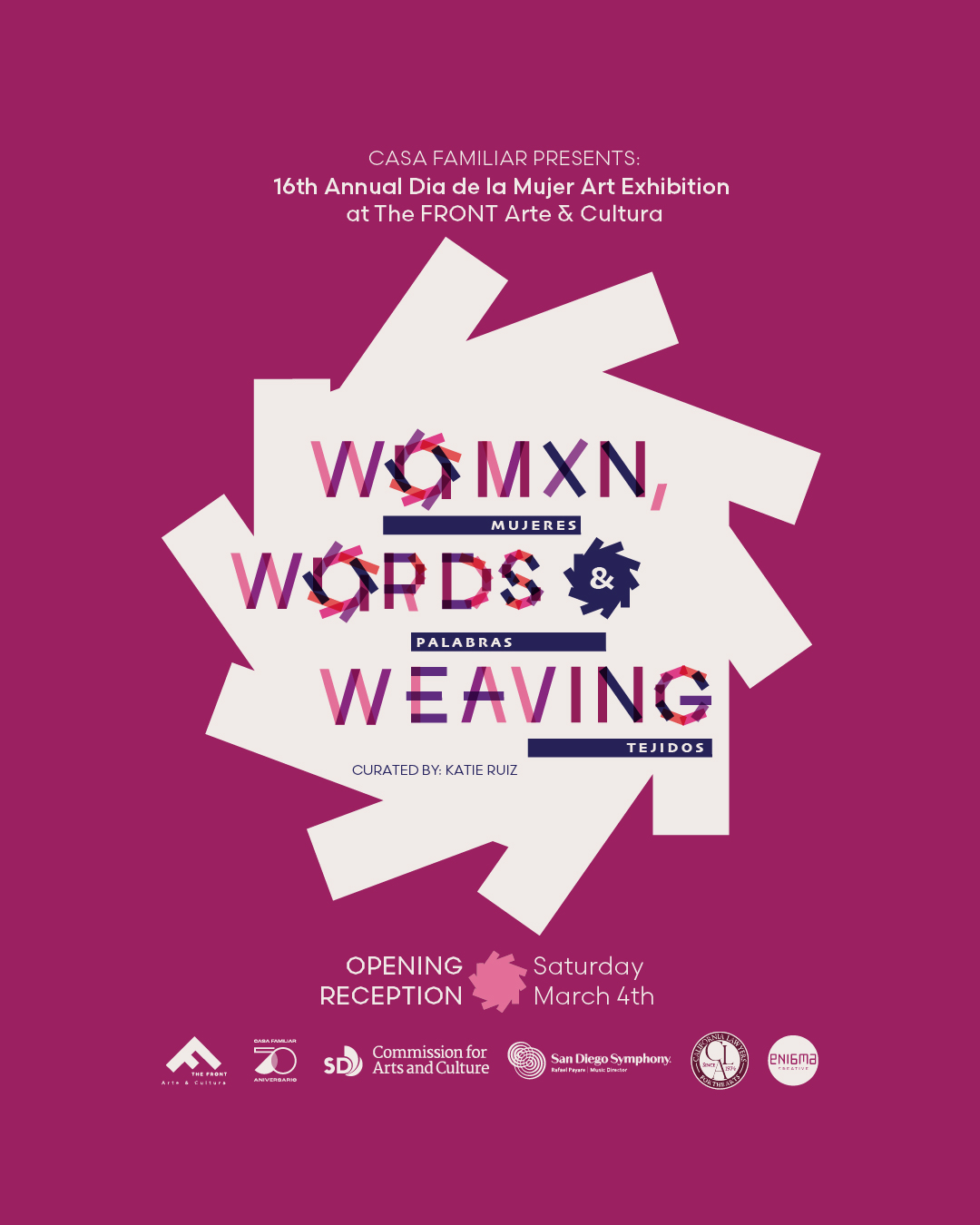 March 4 - May 4, 2023
San Diego, California. Casa Familiar, this year celebrating its 50th anniversary, is pleased to announce the exhibition WOMXN, WORDS & WEAVING –
Mujeres, Palabras y Tejidos
as part of Casa Familiar's 16th annual Dia de la Mujer. The Dia de la Mujer exhibition will be celebrated with an opening reception on March 4, from 6:00 p.m. to 8:00 p.m., at The FRONT Arte & Cultura (147 W. San Ysidro Blvd, 92173.)
January 12 - February 1, 2023
The zine format has been used extensively in our LGBTQIA+ community to pass on information, either written or visual, in an informal, accessible, free and unofficial way. It is a cultural form that rejects the mainstream in favour of the personal, the political and the playful.
The DIY publications included in A to Zine offer visitors an opportunity to delve into the latest expressions of queer culture on topics as varied as: how to look after your mental health online; recover from your first break-up; understand the sociology of bad sex or bake bread with very unusual ingredients.
Visitors can flick through joyful celebrations of body hair, explore the colours of mushrooms, or chart the dysfunctions of the gender clinic. The zines explore the limits of form and format, ranging from pocket sized, folding concertina, to pamphlet and hefty booklet.
Alana Gaglio / Alex Muto / Alex Thomas / Alia Zapparova / Amuna Wagner / Ariel Collier / Avila Rubiales / Ayshe-Mira Yashin / Barney Pau / Ben Hart / Bob Chicalors / Brontez Purnell / Brooke Palmieri / Bug Sheperd-Barron / Camila Machado / Catherine Casle Chandler / Chierol Lai / Christina Matz / Clayton Heeley / Davide Meneghello / Dolly Sen / Eli Delbaere / Ella Frost / Ellora Prior / Eray Yilmaz / Eva Megias / Fauziya Johnson / Fox / Gabriel Liu / Gaby Sahhar / George Grace Gibson / Helen Savage and Nicky Harris / Helen Splander / Holly / Holly Blue Lell / Holly Parkinson / Ian Giles / Jessica Noble / Jordan Taylor / Kelly Liang / Kilian Becker, The Phantomat / Korantema Anyimadu / Koshy Brahmatmaj / Krishna Balakrishnan / Kurtis Lincoln / Laura-Marie River Victor Peace / Leena Zhané / Loizos Olympios / Lu / Lu Williams / Lulu Williams / Lydia Rose & Allies art club / Marlies van Hak / Miggy and Rob / Mirrored Fatality / MNamug & Nuria Castro / Mx Afon / Naz Toorabally / Nicky Chue / Odette / Phyllida Jacobs / Qiuyan Chen / Ray Young / Richard Malone / Ripley Renner Fletcher / Ruairí Valentine / Sai / Sam Gerard Avila Rubiales / Satanis Bolete / Sean Burns / Shann Wahl / Shelly Grotto / Shevek Imogen Fodor / Sina Leasuasu / Sophie Bownes / Stellan Tobias / Tam Hart / The Fat Zine / Thelionsmouth / Tigger and SHAG Stonehenge Heritage Action Group / Vanessa Zappi / Yiling Wong
September 17 and 18, 2022
Dream Radio II A Sound Installation Presented by Cone Shape Top
Cone Shape Top presents the second installment of Dream Radio at Other Places Art Fair. A site specific surreal listening station taking place inside a black cube emitting 6 hours of sonic exercises, ambient soundscapes, drones, original productions, club tracks, experimental music, spoken word and field recordings from an international line up of art
practioners, musicians, producers and sound artists.

We invite you to come inside and tune into the phantom airwaves of Dream Radio.

Other Places Art Fair 5
Saturday September 17 and Sunday, September 18, 2022. 12-6 PM
We are located at site #20Battery Leary-Merriam / Angels Gate Cultural Center / 3601 S. Gaffey St. / San Pedro / CA / 90731

Contributors:

5k Candle Amabelle Aguiluz
Anna Luisa & Isola Tong
Anna Luisa feat. Sarah Gail
Ancient Pocket
Andy Human + Mig Zamora
Anne Lesley Selcer
arboreal
Austin Fisher
badorchid
Collectibles
Cat Lauigan
Daiana Feuer
Deneir
DIN (Geraldine Jorge)
DISH
Experimental Housewife
Gabby Wen
Gabriel Slavitt
Goth Lipstick
Humanherb
IB
IDHAZ
Izaak Schlossman
JJ Verne
Jonathan James Carr
Kevin Corcoran
Kian Pantley
Kwonyin
Liam Herb
Liz Yu & Jan Lu
llloyd
Marc Merza
Matthew Kerkhof
Mind Mirage
mirrored fatality
Natali Rocafuerte
Nicki Chen
ojo
Ray Monde
Raven
Ryan Beckemeyer
Shelly Badal
Tom Marsi
Trevor Treglia
Unoperator
Victory Lap
Will Liang
Xyla
July 7 – August 13, 2022
︎
Matrix Exhibition curated by Tracy Ren - Featured Artist VALE - Root Division, San Francisco, CA
MATRIX at @rootdivision in San Francisco which centers the collective learning, healing and dreaming of artists who deviate from hegemonic norms. The exhibition is an invitation to these artists to create, heal, nourish themselves and one another, dream of prospective futures, and exhibit their works without descriptive constraints or limitations. The exhibition also invites the audience to participate in this healing and dreaming, fostering a culture of care and exchange between and across communities.
The artists featured in MATRIX are diverse in their approaches, each possessing highly nuanced and multivalent practices that draw from a wellspring of deep personal wisdom. What they have in common is the desire to connect—to themselves, to others, and to the world at large. They lovingly create entirely new languages with which to speak through a poetry of material, space, and action.
"In gathering within the framework of MATRIX, we aim to grow towards one another in meaningful ways while honoring the complex lineages that flow through us. We hope to strengthen, expand, and celebrate the webs of care within the SF Bay Area's creative communities by providing an integral space to practice more aligned ways of being in and engaging with the world and one another, and to indulge in the potency of a dream." – Tracy Ren
EXHIBITING ARTISTS
Lukaza Branfman-Verissimo
mirrored fatality
Black Feast
Yaxkin Fuentes-Barrientos
Leena Joshi
Cat Lauigan
Kennedy Morgan
Judit Navratil
Zach Ozma
J Rivera Pansa
Seraphina Perkins
Maybe Later 🙂
Maryam Safansab
Jasmine Zhang
Cone Shape Top Exhibition
Through the catalyst and inspiring legacy cave that is @coneshapetop, (thank you Cat + Matt!!) we are excited to announce our first gallery exhibition and performance on Chochenyo land since the quarantine. We will be showcasing our COCOON webs dresses, shirts airbrushed (thank you @pxrkerkim), screen-printed patch & shirts (thank you Moonear Khar), prints (thank you
@wuwei.world
), lyric videos, our herbal tea blend NYMPH ELIXIR (thank you
@han.gvul
for the stamp), and a live performance on Thursday, December 9 from 5-7pm PST at Cone Shape Top (address on flyer)!
All our art exhibited can be purchased & ALL the proceeds will go to printing costs and towards our fundraisers on 12.11 at @place.community | @arwahcollective and 12.12 at @omni.commons | @liyang_network + @filipinocsa, LGBTQIA+ communities in Kashmir under military occupation by India, environmental frontline defenders in Mindanao who are standing between extractive industries and vital old-growth rainforests, major river systems, and other life-giving ecosystems in Mindanao, Philippines, and landless elder migrant Filipino farmers in Orosi, California of Ilokano Farms & Filipino Farmers Cooperative.
COCOON WEBS Exhibition will be up until 12/31, Open Saturdays for walk-ins 1-6 PM or by appointment (link in @coneshapetop bio).
Cone Shape Top is a small project space / music + books shop / podcast series run out of an apartment on Chochenyo land (Oakland). It is a quiet and intimate approach to providing a platform and space to share creative expressions through arts and music and celebrating all things underground. They are open Saturdays for walk -ins 1-6 PM and appointments for rest of week. To keep updated on all programming sign up through their newsletter on their site or check their ig stories.
www.coneshapetop.com
https://coneshapetop.com/upcoming-events